Book Review of SUMO Your Relationships: How to Handle Not Strangle the People You Live and Work With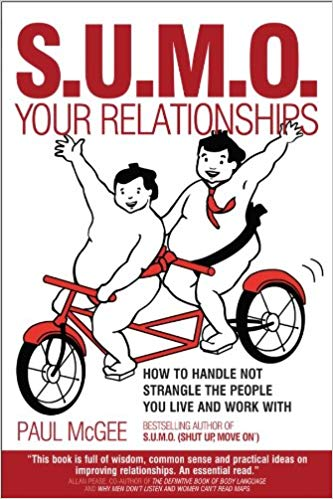 How I discovered it
Earlier this year our Founder at tsf.tech wrote a brief "book of the week" poster to hang up at the office, to share with the rest of companies based on the co-working floor. The book was called SUMO—Shut Up & Move On: the straight talking guide to success. Whilst the original still wasn't on offer yet, this sequel book came up used for £2.81.
Reading time
I typically read on my commute by tram, with approximately 20 minutes of reading time each way. It only took about a week to sift through, which means roughly three to four hours of reading. The language is easy to digest, plenty of white space breaking up the monotony, clever snippets from Paul's own life and space to jot down your thoughts as you try to embed the lessons taught.
What I learned
I feel like I was aware of most of the techniques laid out in the book, and how to be more aware of the different types of people. It's a great refresher that everyone has their own behaviours that can irritate others, as well as yourself. One question I came up with that wasn't answered was:
"Okay sure, this is how you'd handle these types of personalities. What if I just don't want to deal with that person and can 'evict' them from my life?"
That's a judgement call you need to make. In all other cases, all you can do is do your best to manage your relationships with others and sometimes
Verdict
⭐️️️️️️️️️️️️️️️️️️⭐⭐⭐⭐⭐⭐⭐️ 8/10
Whilst it was a light read and more of a refresher for me, I feel that this is a book more people should read to discover that sometimes they're being unreasonable, but also sometimes you're being unreasonable.
In life you really do have to handle, not strangle, the people you live and work with.