Why design is like yoga and other UX career boosting insights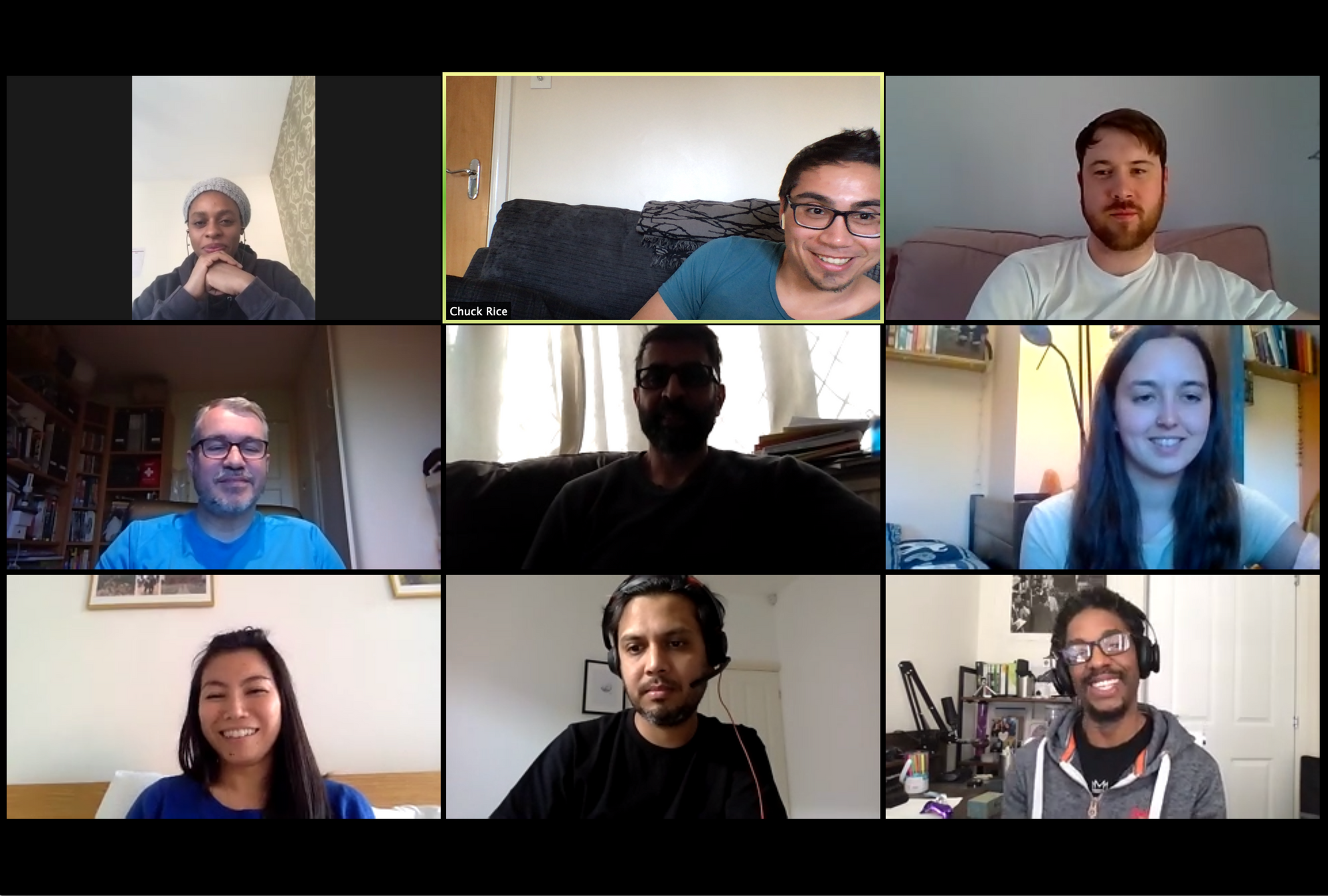 What happens when you put ten UX professionals in a Zoom room across all disciplines and levels, who met through the educational UX site Interaction Design Foundation? A brilliant blend of insights and banter you're sure to experience FOMO from.
We're cruising into week four of the U.K. lockdown due to the coronavirus pandemic, and I was unsure how this meet up would go, since we've had mixed results in the past. Thankfully there was both a good turnout of people, and a great assortment of UX paths and levels.
After doing a whirlwind tour of introductions and taking notes, using my Service Design facilitation skills, five clear topics came out as to what people wanted to discuss and learn more about.
How to start your UX career
Getting a learning direction
Picking a path and speciality
Transitioning sideways or upwards
Tools of the trade
How to start your UX career
A common theme you'll find is that very rarely does someone simply "apply for a UX job" and have their career take off from there. How can an employer or an existing design team trust in your skills? Here's a few common routes.
Take up in an internship
Whether we like it or not, internships or apprenticeships are a fantastic way to go. They give you real on-the-job experience and provide valuable connections with the industry you can rely on. Sure they may not pay well, or even at all, but it's short term pain for long term gain. It's a great way to try out the career too before you commit to a full-time role.
Networking with the locals
No, we don't mean joining events labelled networking and adding people on LinkedIn. That's a great start, but you need to deliver value in order to receive value back. My Co-Local Leader, Charlene, found a previous role through these events by participating and adding value where she could.
Create a Portfolio
The dreaded 'P' word, especially for the researchers in the room. Holler at ya! For better or worse, this is how you showcase your work to potential employers or clients if you're in the consultative side of the equation. Not everyone is a graphic or visual designer and trust me, my skillset is stronger in Service Design. That said, write it as a case study. Describe what happened as a result of the work you did, with permission of course, and even using something like Google Slides and a PDF export is perfectly fine.
Getting a learning direction
It can be overwhelming to know where to start, especially in the early days. Here's a few snippets that help you find the next thing to learn about.
Get stuck in the real world
This speaks to the internship point mentioned previously, but nothing compares to becoming immersed in the actual situation. Shoutout to Imran for suggesting a Google search for GDS, the Government Design System, as a treasure trove of learnings that you can explore at your own pace to find something you want to know more about.
Learn from other disciplines
Another shoutout to Imran, but try attending other meet ups or courses for Agile and Project Management, a Frontend Developers talk or dare I say a seminar in Distributed Databases. The aim is to get immersed in what your colleagues will be doing in the businesses that you will work at one day, and see how your work fits into theirs. It often reveals clues as to what you may want to learn next.
Use the Design Thinking process
Finally, use the standard design thinking process. Personally I found this a great starting point and framework for expanding my T-shape and enriching my skillset.
Empathise > Define > Ideate > Prototype > Test
A designer of various disciplines will hover around the core of this process, whereas a researcher will generally spend time at the beginning or the end of this process. There's other soft skills that will serve you for years to come, and combined with the basics of these will put you in good stead.
Picking a path and speciality
There are generalists, and there are specialists. It's good to be known for something, but it can be tricky to discover what yours is.
Try it on for size
The absolute best way to figure out your niche or speciality is to try it out. Practically all of the seasoned designers in our call came from a wide variety of backgrounds and traversed across the full spectrum of UX design. Eventually we found what we liked best, but could use our newfound knowledge to better work with others.
Use, but don't depend on, the others
Perhaps this is a comment or mindset more so than prescriptive advice, but nevertheless it's still useful. It's great to have a team and be able to use the collective set of skills, but it can sometimes be a blocker. My background meant I was a 'lone wolf' and had no one to depend on for a few years, but I'm thankful each day when I can rely on a strong researcher to find me the insights I need to deliver superstar designs.
Transitioning sideways or upwards
Many come to get advice on moving into UX, but there's still much to learn when moving upwards too. Not just in job title, but in skillset too.
Ask your current employer
Hands down this is the best way to move into UX in my opinion if you have the opportunity. Previous methods discussed are around coming in cold, but if your company has a UX team then broach the subject. That's how I made the swap, the same as so many other professionals I've met over time.
Ignore imposter syndrome
Practically any specialised profession will be prone to this, but you need to take extra note within UX. It's easy to feel like you don't know what you're doing, or the lower perceived barrier to entry often makes others feel like they can do your job. Sure they can, but not as swiftly as you will or to the same high standards I'm sure you strive for. Give yourself a break time to time, before jumping back into the ring.
Go for it and see what happens
If you don't ask then you won't receive. What the pandemic has shown us and highlighted for many people is that your "stable" job is probably not as stable as you thought, and the only way to stay in business is to continually strive for excellence or partner up as a team player that everyone can depend on. Do you really want to put off what could be a fulfilling day at work, everyday, for the rest of your life?
Tools of the trade
This is a tricky one to write about, but we'll give it a go and provide a taster platter. Find what works for you to make stuff or understand stuff. It's all about communication. One thing's for certain: pen and paper is key no matter what type of designer you want to be.
Oh, and post-it notes.
Design
Research
Collaboration
Bonus: Why design is like yoga
Don't worry, I got you fam. Here's my favourite quote of the evening:
Design is like yoga—it works best when you start by setting an intention.
—Tim McKnight
It's actually true when you think about it. In a yoga session, you need to start off by deciding what you want to dedicate your session to. Similarly when starting up your design process you need to be clear about what you want to design for. What's the problem you want to solve? Who for? By using Design Thinking skills to frame your challenge, you'll be guaranteed to deliver better results for your users.
Until next time, Chuck.
---
Liked this? Forward to a friend, subscribe to me on Medium, YouTube, or become a Medium member to support my writing (and other writers, too!).